Glorious Days is the 26th single of the Japanese rock band GRANRODEO. The song is featured in the Kuroko no Basuke's movie LAST GAME.
Track list
Glorious days
BIG SUN
月に抱かれて眠りたい
The special edition of the single contains the music video of Glorious days and the making of it.
Video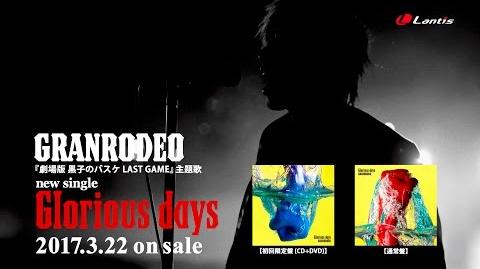 Lyrics
Ad blocker interference detected!
Wikia is a free-to-use site that makes money from advertising. We have a modified experience for viewers using ad blockers

Wikia is not accessible if you've made further modifications. Remove the custom ad blocker rule(s) and the page will load as expected.