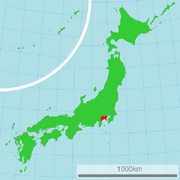 Kanagawa Prefecture (神奈川県, Kanagawa-ken) is a prefecture located in the southern Kantō region of Japan. The capital is Yokohama. Kanagawa is part of the Greater Tokyo Area.
Kanagawa doesn't play a relevant role in the story like Tokyo. It was only mentioned that Kaijō High is located in this prefecture. Unlike teams in Akita or Kyoto, Kaijō usually participates in Tokyo training camps, such as in Kiseki no Game.
Ad blocker interference detected!
Wikia is a free-to-use site that makes money from advertising. We have a modified experience for viewers using ad blockers

Wikia is not accessible if you've made further modifications. Remove the custom ad blocker rule(s) and the page will load as expected.