Kuroko no Basuke: Bonds Towards the Future is a Nintendo 3DS game based on the Kuroko no Basuke series. This is the third game released for the franchise, the first being Kuroko no Basuke: Game of Miracles and the second being Kuroko no Basuke: Miracles to Victory. The release date for the game is March 26, 2015.
Description
Unlike the previous 3DS games, Bonds Towards the Future lets players move characters freely around the court. Characters are bigger onscreen, and the power of special moves has been increased. The game will also offer a part where characters can go around town to chat and deal with game-original events.
Characters
Character Designs
Serin's Character Designs
Kaijō's Character Designs
Shūtoku's Character Designs
Yōsen's Character Designs
Rakuzan's Character Designs
Media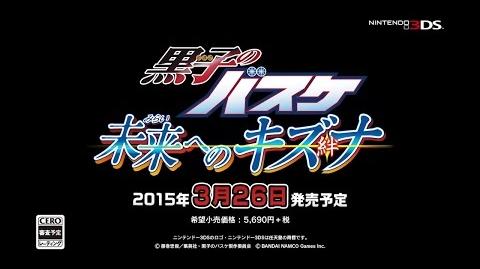 External links
Ad blocker interference detected!
Wikia is a free-to-use site that makes money from advertising. We have a modified experience for viewers using ad blockers

Wikia is not accessible if you've made further modifications. Remove the custom ad blocker rule(s) and the page will load as expected.