Kuroko no Basuke: Cross Colors is a free to play Japanese-only Mobile game based on the Kuroko no Basuke series, released by Bandai Namco. This is the fourth game released for the franchise; the first being Game of Miracles, the second being Miracles to Victory and the third being Bonds Towards the Future. The release date for the game was on July 11, 2016.
Description
The Generation of Miracles has finally made its way to smartphones. Introducing a new "The Basketball which Kuroko Plays" smartphone game! An adventure game with a completely original, new story!
A never-before-told tale of a six schools training camp is about to begin! This training camp has brought together members from Seirin High School, Kaijō High School, Shūtoku High School, Tōō Academy, Yōsen High School and Rakuzan High School. With over 40 characters, enjoy watching their interactions in the scenarios that occur during their training camp together. As we as from training sessions with members from each of the schools, you'll also be able to enjoy scenes from their daily life, in the dorms and in the refectory!
All-new illustrations and voice acting! Enjoy character interactions through various scenarios, illustrations and voice acting: only at the training camp!
The story mode taking place at the training camp, as well as new event stories that change every month, are waiting for you! As you progress further into the story get your hands on character photos, mail and avatar items!
Read a new chapter for free every day! You can read one new chapter of the training camp story per day, with each route consisting of around 25 chapters. With a vast amount of text, get prepared for a huge amount of content! Also… there may even be multiple endings, depending on what choices you make during the story!
Change the outfits of your favorite characters! Equip Kuroko, Kagami and other members of the Generation of Miracles with various items, and decorate each room with player avatars to power up! (Characters other than Kuroko, Kagami and the Generation of Miracles will also be available.) [1]
Media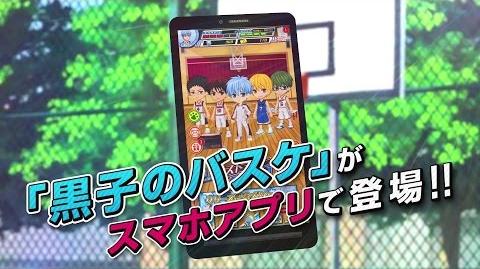 External Links
Trivia
The game release date was never announced before it was actually released.
References
↑

Translated from the Apple App Store
Ad blocker interference detected!
Wikia is a free-to-use site that makes money from advertising. We have a modified experience for viewers using ad blockers

Wikia is not accessible if you've made further modifications. Remove the custom ad blocker rule(s) and the page will load as expected.