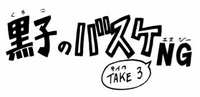 Kuroko no Basuke NG-Shū
(黒子のバスケNG集) is an omake segment at the end of some chapters. It is always one to five small panels long, showing bloopers that could have happened in the preceding chapter, always with a humorous effect. They are sometimes referred to as outtakes.
Some bloopers have also been animated and have been included in the DVDs of the anime.
List of Kuroko no Basuke NG-Shū
Ad blocker interference detected!
Wikia is a free-to-use site that makes money from advertising. We have a modified experience for viewers using ad blockers

Wikia is not accessible if you've made further modifications. Remove the custom ad blocker rule(s) and the page will load as expected.