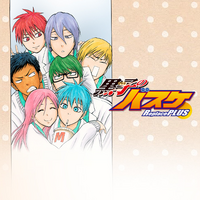 Kuroko no Basuke Replace PLUS is the manga adaptation of the Kuroko no Basuke -Replace- novels. So far the manga is focusing on the Generation of Miracles during their Teikō days. The chapters of Replace PLUS are being published on the official website of Shonen Jump+ Japan.
The artist of Replace PLUS Takahashi Ichirou, was once Fujimaki's assistant.
Chapters
Chapters not yet released in volumes
16. Welcome to Teikō Festival (part 7)
See also
External links
Ad blocker interference detected!
Wikia is a free-to-use site that makes money from advertising. We have a modified experience for viewers using ad blockers

Wikia is not accessible if you've made further modifications. Remove the custom ad blocker rule(s) and the page will load as expected.