Home
Talk

4
823pages on
this wiki
Welcome to the Wiki!
"Uhm excuse me, I'm right here."
You've found the Kuroko no Basuke Wiki!
We are currently editing over 823 articles since November 2010.
Careful: This wiki contains spoilers, read with caution!
---
About • Policy • Administration • Templates • Polls • Chat
Featured Character

Featured Match

Masako Araki
Teikō Junior High vs Meikō Junior High
Masako Araki is the coach of Yōsen High. She is very serious in coaching Yōsen, hitting the players with a shinai when slacking off or misbehaving. She is also sensitive of her age, managing to hear Riko call her a granny from across the court.
The finals match of the Nationals during the Generation of Miracles' third and last year. It was a long awaited match between two childhood friends, Kuroko and Ogiwara.
Final score: 111 – 11
Affiliated Sites
If you would like to become an affiliate with us, contact Bereisgreat here.
Contribute to this Wiki!
To write a new article, just enter the article title in the box below.
Wiki News
We have reached a new article count milestone, there are now over 800 articles!! (April 11)
Gamerenz is promoted to the Admin position. (February 24)
700 pages reached! (February 20)
The second season has commenced, already a few episodes in! We have a new featured article, Makoto Hanamiya and a featured match, Kaijō vs Tōō! Also a fresh poll, asking you why you follow the Kuroko no Basuke series, together with the wiki milestone of 2,000 files uploaded!! Wow, such progress!! (November 1)
Great news!! The release date for the second season has finally been revealed, which is October! Early leaks that it will air in September were thus proven wrong, season 2 is coming this Fall. (May 8th)
We have reached a new article count milestone, there are now over 500 articles!! (April 11)
We accidentally tilted the page on April Fools, it wasn't a prank or anything... (April 1)
We regret to inform you that admin LeoWyatt has resigned from his position. We hope to still work with him in the future. (January 30)
Happy New Year! New Featured Character and Featured Match: Yukio Kasamatsu and Seirin High vs Josei High. New poll asks you who your favorite SG is! (January 1)
Merry Christmas!! Anime News Network has reported that a second season of Kuroko no Basuke has been green-lit! Kuroko no Basuke Anime continues in 2013!! (December 26th)
400 pages reached! (December 16)
About Kuroko no Basuke
Kuroko no Basuke, also known as Kuroko no Basket or The Basketball Which Kuroko Plays or Kuroko's Basketball, is a manga serialized in Weekly Shōnen Jump. An anime adaption has aired from April to September and a second season is underway.
The story centers around the Seirin high school basketball team, with Tetsuya Kuroko and Taiga Kagami as its most valuable players, as they face opponents as the Generation of Miracles in the Interhigh and the Winter Cup. Read more...
Poll
Which of these are you most excited to see in Season 3?
Random Cover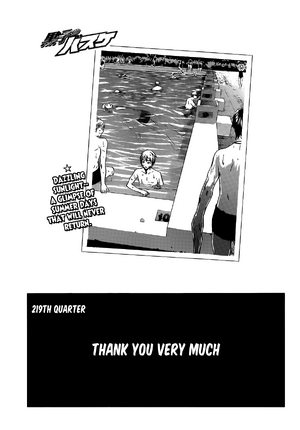 Recent Blog Posts