Satoshi Tsuchida (土田 聡史 Tsuchida Satoshi) is a second year power forward at Seirin High.
Appearance
Tsuchida has short, spiky black hair. He has very thick eyebrows and his eyes look like they are closed, narrowed down to thin, horizontal lines. He wears the red, black and white Seirin High jersey with the number 9.
When Seirin's past was revealed, it is shown that he hasn't changed at all from last year.
Personality
Not much is known about Tsuchida, but he does like to play basketball very much. He is rarely in the center of attention, because he is quite shy. He also likes cats, but when he approaches one, it always bites his hand.[1]
History
Tsuchida joined the newly formed Seirin basketball club after they shouted out their resolve at the morning ceremony. He turned in his application when they were busy training[2] and became the team's substitute power forward. He sat on the bench and cheered Seirin on during the Interhigh preliminaries.
Story
Winter Cup
Round 1
Tsuchida attended the opening ceremony alongside Seirin and was later seen on the bench, cheering for Seirin in their first match in the Winter Cup, against Tōō Academy.[3]
Skill
Physical Ability

 

6/10
Technique

 

6/10
Stamina

 

8/10
Mental Strength

 

7/10
Special Ability

 

3/10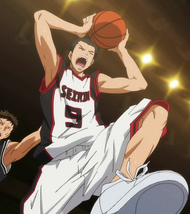 Tsuchida hasn't clearly been seen basketballing, but as a previous regular members of Seirin, he possesses regular ballhandling skills. Just like Koganei, Tsuchida only started basketball in high school. It was also mentioned that Tsuchida's speciality is rebounding.[4] He has trained on that skill for the past year.
Trivia
References
Ad blocker interference detected!
Wikia is a free-to-use site that makes money from advertising. We have a modified experience for viewers using ad blockers

Wikia is not accessible if you've made further modifications. Remove the custom ad blocker rule(s) and the page will load as expected.