Since We Don't Have The Leisure For That is the two hundreth and sixty-fifth chapter of the Kuroko no Basuke manga. 
Summary
A confused Akashi continues to make mistakes and lose points, making him losing his sanity. Timeout is called, as the score is 86 - 92, Seirin behind by just 6 points with 6 minutes to play. People think Rakuzan has to take a timeout, but instead, Seirin is the one calling for it. It is because Seirin thinks Kagami is starting to reach his limits. After understanding the current situation, Kagami decides to remain in the game.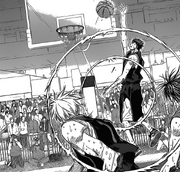 Timeout is over, and it's Rakuzan's ball. Seirin is glad that Akashi stopped his one-man attack and the latter passes to
Mibuchi
. Mibuchi tries for the Earth 3-pointer, with
Hyuuga
realizing it too late, but it misses, as the rhythm is off. Seirin counters, and
Hayama
is angry that Akashi actually returned slower than himself, as Hyuuga converts a layup. The score is 88 - 92, with Seirin needing 4 more to tie the game.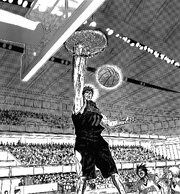 Kiyoshi asks Kuroko whether the latter is worrying about Akashi. Kuroko replies that there is no leisure for him to do that. Kagami intercepts another pass, and it's Seirin's counter fast break. Kuroko makes the alley-oop Ignite Pass to Kagami, who dunks it in easily. The score is now 90 - 92, and Seirin just needs another basket to tie the game.
A furious Nebuya can't believe Akashi's loss of spirit after the latter's first defeat to Kagami and Kuroko, and he grabs him by the shirt. Rakuzan calls for a timeout then, as Mayuzumi is contemplating something.
Characters in order of appearance
Matches featured 
Techniques used