Start!!! (始動!!!, Shidou!!!) is the twenty-eighth episode and the third episode of the 2nd season of the Kuroko no Basuke anime.
Synopsis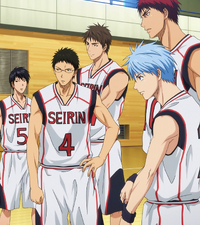 The Winter Cup preliminaries get under way, with Seirin taking on Josei High. This marks the official return for center 'Iron Heart' Kiyoshi Teppei since recovering from his leg injury. Although Kagami is forced into a less active role due to being double teamed, Kiyoshi's unpredictable play and rebounds improved Seirin's offense and defense. Seirin takes control of the whole match, winning it with a score of 108-61. However, the next few qualifying matches might just get tougher for Seirin.
Characters in order of appearance
Manga and Anime Differences
Ad blocker interference detected!
Wikia is a free-to-use site that makes money from advertising. We have a modified experience for viewers using ad blockers

Wikia is not accessible if you've made further modifications. Remove the custom ad blocker rule(s) and the page will load as expected.