Teikō Junior High (帝光中学校 Teikō Chūgakkō) is a school in Tokyo. Their basketball club is exceptionally strong and has over 100 members. They have a lot of successive championships titles on their name.[1]
The school had a strong winning-philosophy and they taught their players that winning is everything and that losing is not accepted. The Generation of Miracles became so strong that a quota of 20 points per player had to be reached and if not, punishment training will follow.
Teikō Junior High School is mostly known for the strongest team that ever played there: the Generation of Miracles.
Structure
Edit
Being an elite school with a high-leveled basketball club, many students apply for a position in this reputed team. As such, the club has three separate strings, labelled the first, second and third string. The first string is the main team of the club, the strongest and most important one. The club's captain is always a player from the first string. The second string can be considered reserves for the first string, even though they play their own matches too. The third string is somewhat a dumpster where the players end up in after being rejected from both the first and the second string. It is unknown if the third string even play in their own matches, it seems that it is only created to keep low quality members in the club. It is encouraged for them to improve and advance to the second string, but this is unlikely to happen.
Each string has their own coach, but the entire team is overseen by the head coach, this being Kōzō Shirogane.
1st string
Edit
These matches are unlocated in terms of championship or league.
Nationals (2 years ago)
Edit
Group stage
Edit
Nationals (1 year ago)
Edit
Prelimenaries
Edit
Group stage
Edit
2nd string
Edit
These matches are unlocated in terms of championship or league.
Former Players
Edit
Offense

 

10/10
Defense

 

10/10
Bench Strength

 

10/10
Height

 

10/10
Teamwork

 

2/10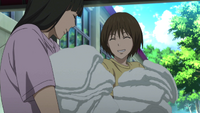 References
Edit
↑

Kuroko no Basuke chapter 1, page 1

↑

Kuroko no Basuke, Episode 63