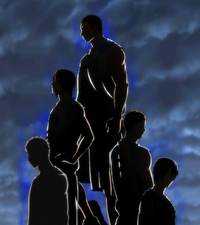 The Uncrowned Kings (無冠の五将, Mukan no Goshō) is a term used to describe five players that are almost as strong as the Generation of Miracles. If these players had been born in a different time, they would have held that title of Miracles, however their individual skills were overshadowed by the collective abilities of the Teikō team.[1] They are also known as the Crownless Generals or Uncrowned Five.
Unlike the Generation of Miracles, the Uncrowned Kings didn't play on the same team, but were rivals. While the Generation of Miracles were gathered in one team, the 5 Uncrowned Kings were on different teams. For a long time, only two of five Kings were shown, but it was recently revealed that the other three are playing for Rakuzan High.
Lately, the term "Uncrowned" has lost its meaning, since at least three of the five players have undergone a tremendous transformation playing with Rakuzan and have achieved a rate of improvement that is similar to the Generation of Miracles in high school.[2] The same can be said about Kiyoshi.
Uncrowned Kings
Edit
The Uncrowned Kings all have last names where the first kanji is related to a plant.

Teppei Kiyoshi (木) meaning "Tree" or "Wood".
Makoto Hanamiya (花) meaning "Flower".
Kotarō Hayama (葉) meaning "Leaf".
Reo Mibuchi (実) meaning "Fruit" or "Seed".
Eikichi Nebuya (根) meaning "Root"

Interestingly enough, none of the Uncrowned Kings occupy the Power Forward position.
The first two Uncrowned Kings, Kiyoshi and Hanamiya were both given a nickname, but it is unknown if the other three hold a similar title.
References
Edit
↑

Kuroko no Basuke chapter 85, page 9

↑

Kuroko no Basuke chapter 231, page 17