Now that our community is growing, I'd like to know some of our editors. I did the same thing on the Deadman Wonderland Wiki and I got good feedback, so I though "Why not do it on my more active KnB Wiki?!" So I did.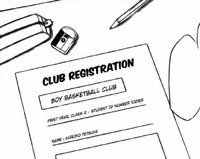 I want you to tell me:
How old are you? Are you a boy or a girl (prof. Oak style)?
From what country?
What other mangas/animes do you like?
What are your favorite Wiki's, plus your Wikia experiences/history
Any other hobbies
You don't have to do it, obviously, but I think it's nice to get to know the people you're talking with. I'll start by introducing myself:
Bereisgreat, known as Captain on the KnB Wiki. I'm 17 years old and live in Belgium (near France, Germany, the Netherlands and England). I am a HUGE manga lover and love making Wiki's about them. I read all kinds of manga, but I'm more attracted to sports manga for some reason. My favorites are Bleach, Bakuman, Kuroko no Basuke (evidently), Fullmetal Alchemist, Deadman Wonderland, Giant Killing, K-On!, GE - Good Ending, One Piece, 20th Century Boys, Ikigami, Dragon Ball, ... I watch less anime than I read manga, but I can enjoy some Bleach action, as well as the Kuroko no Basuke anime. Shout out to Eyeshield 21 for being the best sports anime ever and Durarara!! for being the best anime OF ALL TIME.
For Wikia shizzle, I've been on Wikia since 2008 and edited on the Bleach Wiki at first. I've adopted/created/gained admin rights on many Wikis (about 12 if I remember correctly). They are all about a manga/anime series. Over the years, I have become more efficient at editing and research so my Wikis have evolved with me (just compare the Zombiepowder. Wiki with this one and you'll see a difference of night and day). I think I can call myself a true Wikian, trying to be active as much as I can and being as responsible and friendly as much as I can. For other things, I play basketball (my ninth year now) and I'm a small forward. I enjoy playing basketball like I've never enjoyed any other things in my life, I'm truly absorbed by it. I'm also a massive YouTube and Memebase visitor and manage the @WikiaAnime Twitter account, something I'm quite proud of :).
Now introduce yourselves!
Ad blocker interference detected!
Wikia is a free-to-use site that makes money from advertising. We have a modified experience for viewers using ad blockers

Wikia is not accessible if you've made further modifications. Remove the custom ad blocker rule(s) and the page will load as expected.