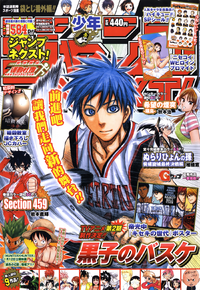 So yeah, it's finally here. Season 2. According to Anime News Network:
"The Winter 2013 issue of Shueisha's Shonen Jump Next magazine is announcing on Friday that production on a second season of the Kuroko's Basketball anime has been green-lit. The first season based on Tadatoshi Fujimaki's manga ran from April to September of this year."
Kuroko's Basketball Anime Gets 2nd Season
The only things I have to say is this:
http://img716.imageshack.us/img716/2374/fuckyeahawwyeahl.png
I'll keep the excessive spamming and spazzing for myself. You can do it right here, in the comments.
Ad blocker interference detected!
Wikia is a free-to-use site that makes money from advertising. We have a modified experience for viewers using ad blockers

Wikia is not accessible if you've made further modifications. Remove the custom ad blocker rule(s) and the page will load as expected.