Yoshitaka Moriyama
Comments

9
677pages on
this wiki
Yoshitaka Moriyama


Name
Yoshitaka Moriyama
Kanji
森山 由孝
Vital Statistics
Gender
Male
Age
18
Height
181 cm (5' 11")
Weight
67 kg (148 lbs)
Professional Statistics
Team
Kaijō
Position
Shooting Guard
Talent
Unorthodox Shooting
First Appearance
Manga
Chapter 63
Anime
Episode 3
Seiyū
Vomic
None
Anime
Tomoyuki Higuchi
Image Gallery
Yoshitaka Moriyama (森山 由孝 Moriyama Yoshitaka) is Kaijō's shooting guard.
Appearance
Edit
Moriyama has short black hair with a green tint that he parts to the right. His eyes are very narrow and he is of average built. He wears the blue and white Kaijō jersey with the number 5.
Personality
Edit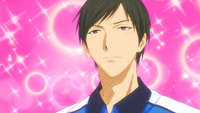 Moriyama is a ladies-man. He constantly looks out for cute girls and plays for their sake. That said, he can be silly at times, but is focused and reliable when he needs to be.
Interhigh
Edit
Moriyama appears for the first in the Kaijō locker room before their Interhigh game against Tōō High, still daydreaming about a girl he saw in the stands. When the match starts, Moriyama is a starter and lines up with the rest of his team.[1] The tip-off is given and the ball goes to Tōō after an Aomine steal. Wakamatsu swings the ball to Sakurai, who shoots with a very quick release and Moriyama is unable to block the shot.[2] Later, at the end of the first quarter, after a bad shot by Kasamatsu, the ball goes from Hayakawa to Moriyama, who pulls up for his unique, bad-rotation shot and nails it.[3]
Pre-Winter Cup
Edit
Moriyama is seen practicing for the Winter Cup with Kaijō High. He comments on Kise being in good shape.[4]
Winter Cup
Edit
At the Winter Cup, he plays with Kaijō in the first game of the Cup.[5] He is also seen watching Seirin's quarter-finals and warms up when it's their turn.
The Winter Cup quarter-finals against Fukuda Sōgō High commences and the first ball possession goes to Kaijō. Moriyama gets the ball from Kasamatsu and shoots his unorthodox shot, getting the first three points of the game. In the audience, Hyūga comments on how his shot has become Moriyama's personal weapon. A little later, Haizaki copies Moriyama's shot, but tweaks the rhythm. When Moriyama tries to do his shot again, he subconsciously loses his rhythm and misses. Haizaki has stolen his move.[6]
The match progresses to the fourth quarter and Kaijō is struggling. Without the back-up of their ace and the difficulty of using their specialities, Moriyama's team has fallen back to a good 15 points. After Kise awakens his Perfect Copy and pushes back Haizaki, he leads the team to victory.[7]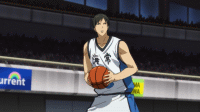 Unorthodox shot
Edit
Moriyama focuses mostly on shooting. According to Sakurai, his shooting form is unique, as if he has a bad rotation.[8] This was further explained during the quarter-finals of the Winter Cup. It is revealed that he puts little to no rotation on the ball. This form is apparently the most comfortable way for him to shoot and creates an unusual form that is hard to block.[9]
Moriyama ranked 24th on the second character poll, with 117 votes.
In Replace, he was nicknamed and known as the "Pitiful Handsome Guy".
References
Edit